Videos are a powerful way to tell your brand story and capture attention.
But the last time you tried to start a YouTube channel, your audio was off, your effects looked amateur, and your edits looked like that family vacation film from the '90s.
Ooh-oo child, things are gonna get easier.
Introducing InVideo.
TL;DR
Create stunning professional-level videos in minutes with pre-made templates for all your needs
Access InVideo's media library filled with millions of beautiful images, videos, and music
Trim clips, crop frames, loop video, and tons more with additional Advanced Editing options
Best for: Marketers, media companies, and any business that wants to create marketing videos
InVideo is a simple, scalable video creation platform with templates that help you make engaging videos in minutes.
InVideo lets you fast-forward through the tedious video editing process with pre-made templates adapted for any kind of video, from technology to sports to Instagram-ready posts.
To begin, just select a specially-designed template, then copy and paste your video script.
Next, start telling your story with InVideo's library of millions of stunning images and royalty-free videos that match your message.
Click "Quick Edit" and suddenly, InVideo's smart engine does all the heavy lifting by creating a scene with your custom text.
Need to make tweaks? No problem.
You're 100% in control, with the ability to trim or extend clips, crop the frame, loop video, and change the volume.
Plus, you can add stickers, overlays, effects, and GIFs or go even more in-depth with Advanced Editing options.
To make sure your videos are as perfect as you want them to be, you can finally preview your masterpiece.
Once you've decided everything is g2g, you'll be able to export an HD-quality video, which is rendered in minutes like sorcery (♪1080P magic in the air♫).
All that's left is to add music from InVideo's collection of copyright-free music.
Choose from any mood, from electronic to dramatic to happy — they're all bops.
The options are endless with InVideo, from informational and educational videos to stock ticker updates to sing-along videos.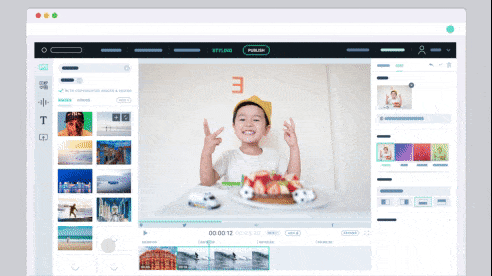 Publishers, marketers, and small businesses alike use InVideo to create engaging videos without complication or hours spent on the computer.
Some video creation tools bog you down with complicated and unnecessary menu items that keep you from ever creating content.
Others are so basic that your video looks like it was put together by the intern (not the good one).
With InVideo, you're getting an arsenal of hundreds of templates, pre-made design elements, an extensive media library, advanced editing features, and the flexibility to make your videos your way.
And InVideo is working hard to make sure this product keeps getting better. Check out their roadmap here.
Not everyone can be an astronaut or an Oscar-winning director or a wizard (I'm sure my Hogwarts letter just got lost in the mail).
But with InVideo, anyone can conjure beautiful professional-quality videos in no time.
Get lifetime access to InVideo now!
P.S. Learn how to use InVideo like a pro! Watch the demo webinar replay.
P.P.S. Only for AppSumo users: You can upgrade your plan and access 50 premium stock videos/mo. and get HD video resolution for $20/month. (This is a $2000/mo. value!)