In the marketing world, viral contests have evolved way beyond who can eat the most pie in one sitting. (Turns out I could've won a ribbon for a typical Sunday afternoon.)
Contests are highly effective for growing your list in any industry, but it's not always clear where to begin.
That's why you need a robust viral contest software that's easy to use and generates the quality leads you deserve.
Meet Contest Domination.
TL;DR
Create, launch and manage viral contests for lead generation in record speed
Incentivize and track referral opt-ins to rapidly build your list through email and social media
Best for: Event coordinators, influencers, and marketers who want a fresh way to grow their leads with hypeworthy viral contests
Contest Domination allows you to create, launch, and manage viral contests, so you can build your email list and gather real leads.
When it comes to deploying beautiful contest funnels, there's just no contest.
With Contest Domination, you can create viral contests to build a list of qualified email prospects as quickly as possible.
Getting started with Contest Domination is easy, thanks to the step-by-step wizard (way less confusing than that cryptic Dumbledore).
In minutes, you'll have a ready-to-use contest that will collect leads, incentivize contestants to share with their friends, and track those referrals with ease.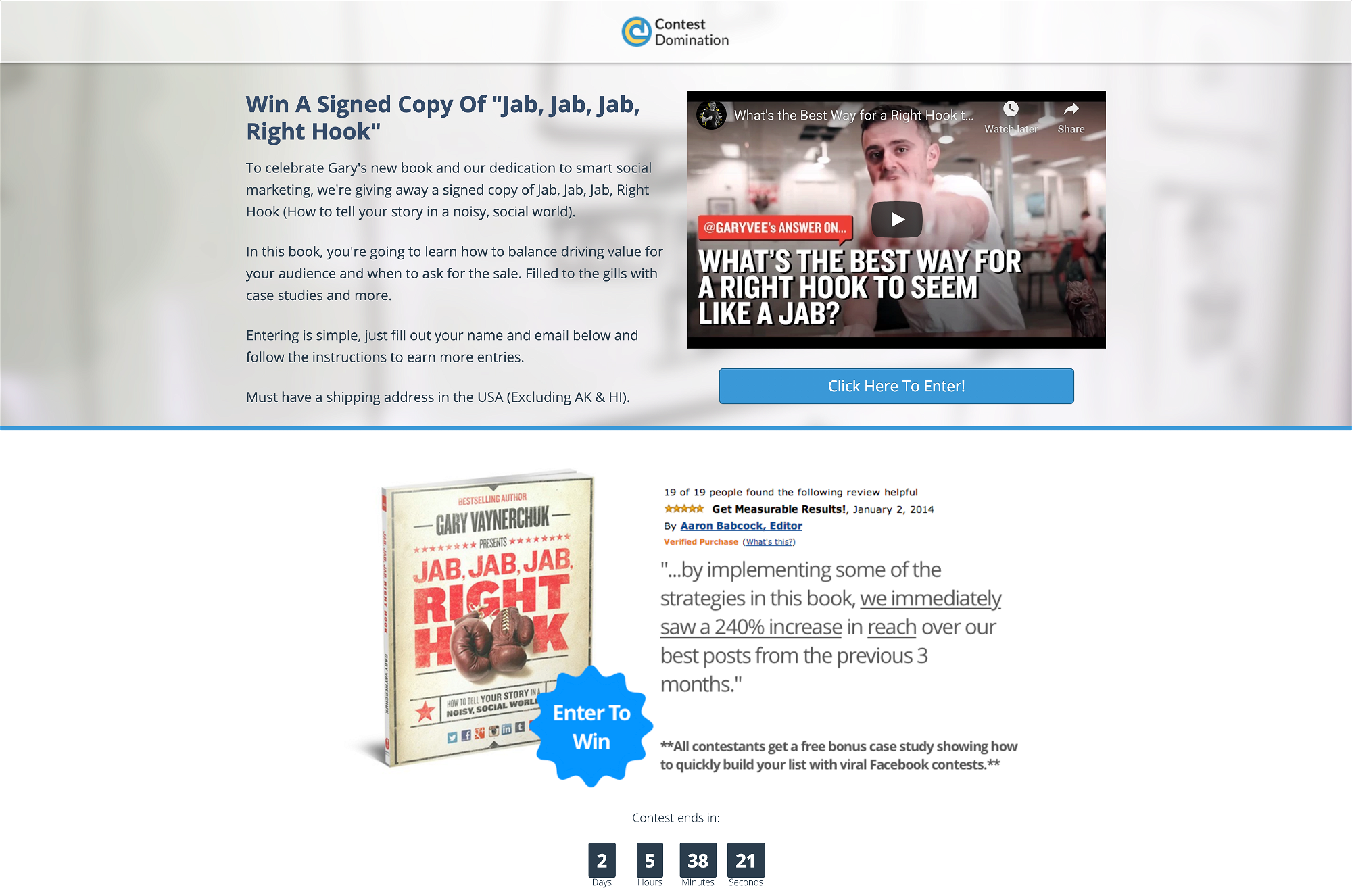 Build buzz with viral contests instantly and generate a list of people who all want exactly what you're making!
Enjoy all the tools you need to boost conversions better than your standard lead magnet, with everything from mobile-responsive templates to a coding-optional interface.
Contest Domination focuses on building your email list, instead of just keeping you chained to a single social media platform (RIP to Xanga—you were a real one).
The plug-and-play referral engine rewards contestants for referring their friends into the contest using special tracking links.
Contestants are incentivized to refer their friends' email addresses using special tracking links.
Best of all? The advanced fraud protection system significantly reduces even the most creative attempts to game the system and automatically bans those caught cheating.
And while email is definitely bae, Contest Domination also capitalizes on contestants' social media accounts.
To nab extra entries to win, contestants can spread the word with built-in share buttons to Facebook, Twitter and LinkedIn. (That means you're making the most of all that doomsday scrolling.)
They'll also get a handy link that they can share anywhere, like iMessage or Facebook Messenger.
Contestants can share your contest on social media to stack up on bonus entries (and get you extra exposure)!
Once your campaign is over, picking your winner is as easy as clicking a button—literally.
Just select a winner from the "winner" tab of your contest and crown that lucky so-and-so with all that viral glory.
After picking your winner (or winners), Contest Domination sets you up with a list of people who just told you they're interested in your product.
That way, your sales' team can follow up on those warmed up leads and close even more deals!
Simply select the lucky contestant from the "winner" tab of your contest to crown your winner!
Contest Domination also makes it easy to disqualify a winner.
Whether someone's from the wrong geolocation or a member of your team (nice try, Tim from Finance), you can just click the "Disqualify" button and get 'em out of your hair.
So unlike your third-grade dodgeball tournament, you'll rest assured that Contest Domination will keep your contests a strict no-cheating zone.
Contest Domination makes it easy to disqualify any winner with a single click.
You can sing from the rooftops about your latest product launch, but it won't help you close any deals. (Unless you've also been chasing that coveted record deal…)
Contest Domination lets you sit back and have your contestants connect you to their networks.
So no matter what the contest is, you'll always be winning.
Get lifetime access to Contest Domination today!
P.S. Learn how to use Contest Domination like a pro by catching our training webinar replay here: Webinar Replay!